RomanceScamTheBook.Com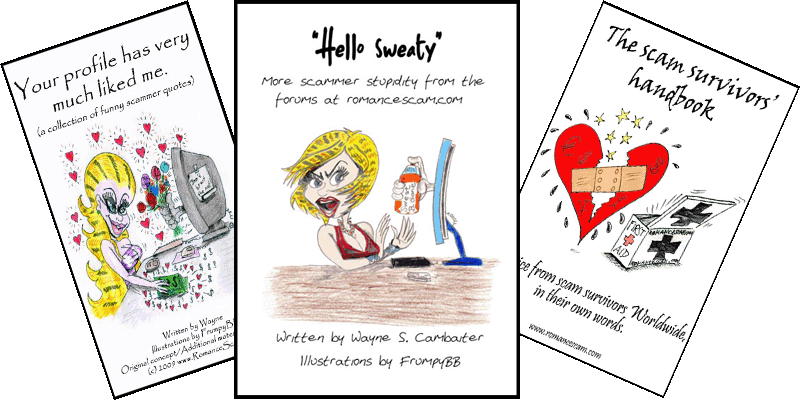 Praise for "Your Profile Has Very Much Liked Me."
"I am laughing out loud while reading. Brilliant stuff."
"I really enjoyed reading the phrases from these jelly headed scammers!"
"Thanks for writing the book. It's FANTASTIC!!!"
"I HURT from laughing so much!"
"The funniest book I have ever read..."
"I love it ..."
"Haven't even got past the intro and I'm rolling on the friggin floor!!!"


Buy the book in Kindle format HERE (USA) or HERE (UK) for $7.95
Buy the paperback at Amazon .COM .CO.UK .CA for $14.99

Click HERE to download "The Scam Survivors' Handbook" for free.
Buy the book in Kindle format HERE (USA) or HERE (UK) for 99c
Buy the book in paperback format at CREATESPACE or AMAZON for $9.95
About the author.
Wayne discovered online 419 scammers by stumbling onto a baiting site in 2005.
A month later, he had his first romance scammer and has been baiting them ever since.
He became a forum administrator helping those who had been scammed in 2008.
www.romancescambaiter.com was created in the same year to showcase his baits as well
as offering help and advice on baiting and dealing with having been scammed.
He now runs www.scamsurvivors.com in order to further help scam survivors.
PLEASE NOTE...
"The Scam Survivors' Handbook" can be distributed in its original PDF format elsewhere,
providing there is no charge made and the book is unaltered.
Click HERE for ScamSurvivors.com and HERE for RomanceScamBaiter